Mario was born in Amsterdam and was the 4th out of 5 children. He grew up with a single mother working 2 jobs in order to provide for her children. She'd rush home, make dinner and hurry to her 2nd job, very often forgetting to eat!
To this day, Mario is amazed at how his mother managed such a large family, and hectic work schedule; she did so with grace and poise.
Mario's football career started thanks to his older brother and role model, Winston. Winston embodied everything Mario aspired to, and Mario shadowed his every move… so of course when Winston started playing football, so did Mario! It didn't take long for Winston to see the innate talent in his little brother, and he took him to play in the local team where he was playing, De Volewijckers. At the age of 9, Mario caught the attention of the Ajax Youth Team, receiving an invitation to come in for a try out. Since Winston was, however, still playing for De Volewijckers along with Mario, he had no interest in going anywhere else.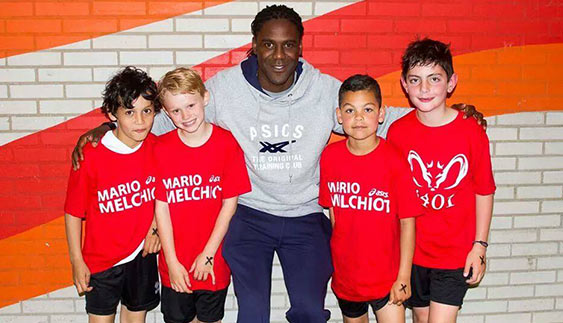 Eventually Mario ended up accompanying one of his friends, who also received an invitation, to the Ajax try out sessions. While Mario was leaning on a fence at the Ajax tryout, a coach approached him and asked why he wasn't on the field; Mario responded, "Why would I play for you? I play for my local team and we've already beaten you twice!". The coach insisted and Mario joined his friends on the muddy field. Once the tryouts were over, the coaches informed Mario that he'd made the Ajax Youth Team.At the age of 17, Mario had his first setback; the coaches told him that he wasn't good enough, and that he would not make the cut. That day Mario went home and straight to his room. Winston felt something was wrong and asked Mario to explain everything he felt he was struggling with on the field. Winston then told him to dry his tears and that there was no way he was going let his brother get cut from the team. With the help of one of his trainer friend, named Klaas, Winston trained Mario everyday after school for 4 months. It didn't matter whether it was raining or snowing, the two brothers were out on the field practicing.

Months later, Mario had the biggest setback of his life, his brother and mentor, Winston, passed away in his sleep, due to a heart-attack. The entire family was shocked and nobody could function. It was now up to Mario to pick himself up and pull everybody up with him.

Even though his career had just started, Mario saw no reason to keep playing the game, now that Winston was gone. His mother reminded him, however, that Winston would not have wanted him to quit. Mario then gathered his strength, dragging himself onto the football pitch 6 times a week despite the grief and pain he felt. His effort and determination secured him a 1-year contract with the reserve team of Ajax; he made his debut on the 14th of August 1996 at the opening of the Amsterdam Arena, against Italian football club A.C. Milan.

A few months later, Louis Van Gaal, the coach of the 1st team of Ajax, saw that Mario was the best player in the reserve team and immediately placed him in Ajax's 1st Team Squad. Shortly after this, offers started to pour in from major clubs interested in acquiring Mario as a player. Mario believed, however, that it was still too soon to leave his family after his brother's death, and promised them that he would not leave Amsterdam until they felt ready; he made the difficult decision to reject all offers at the risk of never receiving similar offers again.

He went on to sign a 2-year extension of his 1-year contract with Ajax. At that time, he made a personal decision, however, not to extend his contract with Ajax beyond the 2-year extension, feeling he would be ready for an international move.

After 1 year as a professional, Mario was awarded the "Best Young Player" trophy. In his second season, he and his teammates won the Eredivisie League and the KNVB Cup. Mario became a much more rounded player; his attacking skills developed to the same level as his defending skills. Ajax noticed this improvement and before the 2-year extension was up, they offered him a new 3-year contract. Mario's faith in his skill was so strong, he knew that big things were awaiting him, so he respectfully declined Ajax's offer.

With 6 months left on his contract with Ajax, Mario received offers from other clubs. He and his agent chose to keep these offers confidential. All the while, people questioned his sanity for his choice not to sign the Ajax deal. Ajax became aware of the other offers and the potential advantages these offers could provide for Mario's future. Reluctantly, they eventually gave his departure their blessing.
Mario honored his Ajax contract until the very last day. On that day, Chelsea announced that he'd signed a 3-year contract with them.

Mario played as a right back for Chelsea for 5 years, winning both the FA Cup and the Charity Shield at the hallowed Wembley Stadium, scoring the decisive goal in the Charity Shield. Over his years at Chelsea, he established a strong reputation in England and was dubbed "Super Mario." Thanks to his incredible passion, faithfulness and love of the Chelsea fans (and British fans as a whole) his name that has never been forgotten. In fact, Mario returned to Stamford Bridge at the end of the season in 2015, where Chelsea was crowned the champion of the Premier League; there the fans gave him a standing ovation as he saluted them from the pitch.

After a two-year extension at Chelsea, Mario then signed a two-year contract with the Premier League team, Birmingham City. Mario enjoyed success and elation during his first season at Birmingham City. In his second season, he had to, however, battle through the lowest point in his career; Birmingham City was relegated to The Championship and Mario felt his fans had turned against him. At that point, he promised himself that he would never disappoint his fans again.

After a disappointing season, Mario signed a 1-year contract with the French team Rennes in 2006. With the memory of the Birmingham City relegation fresh in his mind, Mario decided to "get back to basics" and played his best football ever. He woke up before sunrise, while his teammates were still asleep, to run the streets of Rennes. He then proceeded to the training pitch for the team training session.

As a result of his self-imposed regime, Mario returned to top form and played better than ever. He was highly instrumental and influential in taking Rennes from a relegation position to a top-four finish, and eventual qualification for the Europa League. Also, Mario received his second call-up to serve with the Dutch National team.

After 1 year, and several attempts from Rennes and many top French clubs to keep him in France, Mario felt the urge to return to the English Premier League and signed a 3-year contract with Wigan, where he was awarded the position of club captain. In 2008, Mario made history for his club by being the 1st ever player from Wigan to play in a major international tournament, playing in 'Euro 2008'.
Mario enjoyed his time at Wigan but after the 3 years were over he felt ready to finish his footballing career with an adventure.

In 2010 he moved to Qatar and signed with the club Umm Salal as the captain of the team. Finally, in the summer of 2011, Mario retired after 17 years of professional football at domestic and international levels.

Mario now splits his time between the US and Europe, working for Fox Sports USA and appearing on several international sport talk shows and radio stations.