Will Grigg Scorches Pep's Quadruple Dream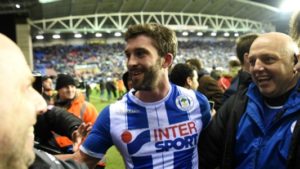 "Congratulations to Wigan for qualification, they had one shot on target."
They were the salty words of Pep Guardiola following his side's FA Cup tie with Wigan last night.
You can understand his frustration. There has been talk of quadruple hopes at the Etihad this season with Man City shaping up to be one of the strongest teams English football has ever seen. The talent on display and the way the team has gelled under Pep's philosophy has been extraordinary at times, and they're certainly not used to losing.
They had only lost two games this season going into the game. Liverpool crushed their unbeaten Premier League season hopes and Shakhtar Donetsk defeated them in the Champions League group stage. In those competitions, even in the Champions League knockout stages, you can afford to lose a game though. In the FA Cup you have no room for error.
Wigan had beaten City the two previous times they had met in the FA Cup. The final in 2013 and the quarter-final the following season both ended in Wigan victory, so everyone at the club knew it was possible. But City had scored 9 goals in their previous two games and are 16 points clear at the top of the Premier League, so it was always a long shot for the Latics.
There was some controversy at the end of the first half that saw Fabien Delph receive a red card for a strong challenge. Guardiola wanted more protection for his players because of the possession football his side plays, so he can't complain when one of his players goes in as hard as that. I don't like it when players swarm the ref asking for a card, but these days a challenge like that is a red.
That was a game-changing moment, but City came out and delivered constant pressure in the second half, still retaining 80% of possession. Wigan were impenetrable defensively, and the big moment came with around 10 minutes to go, when Will Grigg found himself through on goal after a mistake from Kyle Walker.
Grigg only had 19 touches throughout the 90 minutes, but one of them he won't forget for a while. After taking the ball away from Kyle Walker, Grigg looked to have lost his balance before side-footing the ball and falling to the ground. The DW stadium held its breath, and then as the ball rippled the back of the net, the stadium erupted.
Wigan managed to hold on to their 1-0 lead until the final whistle.
City's quadruple dream was over, but the FA Cup dream lives on for Wigan.
They have beaten three Premier League teams now in the FA Cup this season, and their next opponents Southampton know they won't be in for an easy ride.
#mmlove