The Title Race Is On!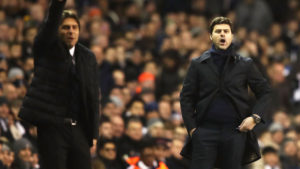 The title race definitely just got a little shaken up.
More teams below the blues now believe they can catch up. It's exciting for the neutral but as a Chelsea fan you're thinking it's almost done and dusted a few weeks back, but after this weekend you might start to feel the breath of Spurs on the back of your neck.
Conte admitted that Chelsea's title chances had been reduced to "50 per cent probability" after the defeat to United. Spurs have won seven games in a row – 12 in a row at White Lane – to close the gap to just four points.
My dear friends are supporting Arsenal and Spurs. We're all 3 on a group text so you can image the banter that flies around. One gets the "is your dad ever going to leave Arsenal?" jokes. The other one hears "you came so close and choked." They tell me that I always play with 12 men because Conte never sits still and always joins in the game.
Now that the excitement is back in the title race, people are starting to enjoy it more. There are 6 games to go and Chelsea can't afford to slip up.
I do think the game at Old Trafford was going to be a battle with so many last minute injuries. Then when the game started it took Chelsea to long to get out of United's grip. They also didn't play with the same levels of energy and killer instinct they normally have. But you have to give Mourinho credit for getting the tactics right. He knows that Chelsea team better than any other opposing manager and he used that to his advantage.
There is some other news that came out of the blue corner this week. John terry is going to leave Chelsea. We all know that all beautiful things must come to an end, and to enjoy it longer you need to create a new one.
But what a career JT has had. I remember him coming into the Chelsea dressing room being super shy, and years later he became the face of Chelsea because he was the guy the team and fans looked to if they need to dig deep for a win. He would always lead by example.
If John can use the same motivation and determination he had while playing for Chelsea I am sure he'll be going somewhere exciting.
I wish him all the best #mmlove