The 'Makelele' Role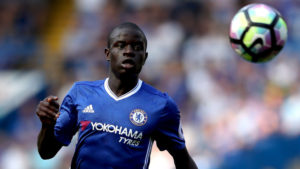 I remember the first time I met with Claude Makelele in the Chelsea dressing room. I knew him from watching him play for Real Madrid behind one of the greatest players ever, Zinedine Zidane. Claude was doing an amazing job and sometimes it looked like he was bossing the midfield by himself.
Seeing him on TV out-jumping players for headers and stealing the ball back for his team – I thought this must be a big player. But when he walked into the dressing room at Chelsea I almost laughed, thinking is this the guy that I was so impressed by, holding the Madrid midfield on his own.
We hit it off straight away but I don't think there are many people who wouldn't. The man has a smile as big and bright as Stamford Bridge. You can't miss it because he's always smiling.
I can tell you that he was a real presence in the dressing room as well as on the field. Whenever we were struggling and needed a soldier to make sure we survived, we could count on Claude. He was so intelligent and always gave the team what it needed.
No two players are the same but when I look at Kante he does have some clear similarities to Makelele. The good part for him is that we had learned in Makelele's time to respect the players that aren't always on the scoreboard or in the limelight when the team wins. These guys save their teams from a lot of trouble and can make the team look comfortable.
Kante digs deep and acts like the engine, getting the rest of the team to put more a of a shift in. Every team needs a player like that. Back in my playing days we always use to say we needed a dog in the team. The one that hustles and gets us the ball back quicker than we can ourselves, but some of these guys wouldn't know what to do with the ball when they have possession so it's like playing with 10 men.
But the likes of Makalele and Kante have changed that. They're leagues above the dog style player we used to describe back in the day. Kante is a luxury player because when you have that understanding of the game that he has its top quality.
If you don't believe me go to Leicester and ask them what they miss the most in their team. Trust me it will be a midfielder that can help them get the ball back, control the game and make them feel at ease.
#mmlove