Motivations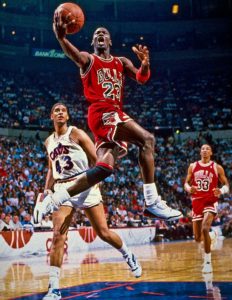 In life we are all motivated by different things.
One of mine is my family, who have always been there for me and continue to be today. Our families guide us to all the dreams we want to achieve, but sometimes you look for something else.
We also find a lot of motivation from our heroes, and after the World Cup in 1986 I bought one of my first videotapes. It was a video of one of my idols called Diego Maradona.
I always thought that if I mastered a lot of his tricks and learned how he beats his opponents, I would understand attackers better when I had to defend them. I really would play that tape almost three times every week, hoping one day to make it to my national team so I could experience those feelings of representing my country.
When I got to that level I was like "what next?" because I needed a new motivation.
I was lucky to play with one of the greatest strikers in the world, an African and Liberian legend called George Weah. I made my debut against Milan and the next thing you know he joined Chelsea and invited me and my brother to New York.
In New York I didn't know I would find my new motivation to push me on to the next level. I was already watching the NBA and the Chicago Bulls were running the show in the USA. I walked into this little store and saw a videotape of Michael Jordan. After watching that I was hooked!
I became an even bigger fan of Michael Jordan and I bought a video called 'Above and Beyond'. There would be a moment before the new season or sometimes during the season where I felt low and needed a push, and I could always get it out of that tape. It might sound strange because you would think after watching it one time I would get bored but for some reason watching MJ made me want to train hard and after watching I always felt like I was ready for whatever.
This week I was shocked when I found myself standing next to MJ's wing man. I thought "Oh my god, this isn't real." I looked short but Scotty Pippen was standing next to me and I thought you got to be kidding me. He looked at me and topped it by taking the time to have a chat with me. Damn, his life is crazy.
I said to him, "you don't know how much happiness MJ and yourself have brought to this kid from Amsterdam." He smiled and started to talk to me about Amsterdam. I won't give you all the details but one thing for sure he knows Amsterdam well. We continue to crack a couple of jokes and both went our way.
As I'm walking I'm still shaking my head thinking athletes really connect easily no matter where they're from. That's what I love the most about the world of top sport.
Life is full of beautiful moments and meeting the humble Scottie Pippen was definitely a special one!
#mmlove