Midfield Maestro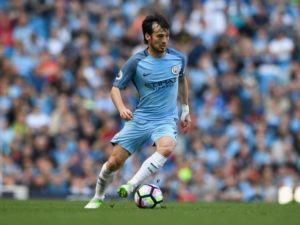 David Silva is a man that doesn't need awards to be respected by the pros and ex-pros.
When you play every game and make it look that easy you know you have something that's out of this world. When I look at Silva I always ask myself why his opponents don't press him. When you give him so much time on the ball he will find the free man – but it's not only finding the free man that makes him great. If he has three options he will always pick the one that can score a goal, where someone else would pick the player that is the obvious choice but also the safe one.
That's why lots of people think football is easy – really it's the pros job to make it look easy. But some look like they don't even break a sweat, and Silva is a prime example.
I used to get frustrated seeing how people played against him, especially in the UK when I had the opportunity to see him more often on TV. But then I had a closer look and understood that they are trying their best to stay with him but he always finds the free space that will allow him to turn, look up and pick the right pass.
He's the master of creating time. I understand why Pep holds him in the same bracket as Xavi and Iniesta. No matter how hard you hustle them you will get booked because they will frustrate you and then you end up tripping them.
David Silva is a master at that. Just when you think you got the ball he will use a little toe poke to push the ball from you, and you're late. Yellow card.
I've always been a fan of the players that master time on the ball and I've practised it a number of times, and trust me, it ain't easy but it helps. Silva has it naturally. He knows where the free space is to receive the ball and have it under control within seconds. He also knows what he's going to do with it before he gets it.
Try it the next time you play and you might get it for 20 minutes straight, which goes to show how difficult it is to do it for 90. And good luck because you'll need it.
#mmlove